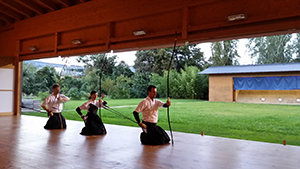 The Austrian Kyudo Federation was established in 1995 after 8 years practicing in a small group in Vienna from 1987. Just now there are 3 clubs in Vienna, 1 in Linz and short time ago a new group in Salzburg was founded.
All together are 90 kyudo practitioners today members in our federation. In 2003 a new dojo in Vienna was opened (see the pictures) and other two permanent places now are planned or in construction. Today mostly practicing find place in special prepared sports halls.
The AKF support his members in attending international seminars with Japanese Sensei in Europe and Japan and organize the yearly national championship in Austria. If everything is correct the AKF will organize with support of EKF the next European Championship 2011 in Vienna.