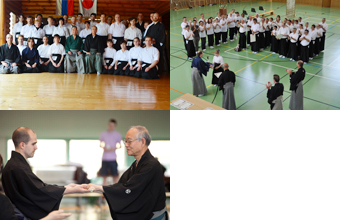 Kyudo in Russia started since 2003, but IPO "Kyudo Federation" was established in 2009 for the purpose of development and promotion Kyudo in Russian Federation. IPO "Kyudo Federation" (Russia) has 19 regional divisions and is a member of the International Kyudo Federation (IKYF), the European Kyudo Federation (EKF), and represents Russian Kyudo in all state bodies and public organizations of Russia, in the international sports activities and coordinates the development of Kyudo in Russian Federation.
Date of Establishment
04.06.2009
President Name
Akimov Oleg
Secretary Name
Moroz Fedor
Number of Members
Shogo/Dan Numbers
5 Dan : 1 4 Dan : 7 3 Dan : 4 2 Dan : 21 Sho Dan : 27
Ungraded : 114
Total : 174
Office Address
109431, Russia, Moscow, Aviakonstruktora Milya street, 11-1-8
Tel
+79165433596
E-mail
info@kyudo.ru
Web Site
http://www.kyudo.ru/
Main Practice Place(s)
Moscow, Istra, St-Petersburg, Ekaterinburg, Ulianovsk, Kazan,
Activities to promote Kyudo
IPO "Kyudo Federation" holds lots of activities, such as an annual Kyudo tournament of kyudojo "Seidokan", participating in annual programs "Japan autumn" and "J-fest" with Japan Foundation, holding seminars and etc. In 2018 we hold the first Regional EKF Kyudo seminar in Russia, St. Petersburg and a seminar in Ekaterinburg under the guidance of Okazaki Sensei and had an honor to host Her Imperial Highness Princess Takamado.